Hi Diddly-Ho, Neighbors! Not your usual greeting when you arrive? It's because this blog has been hijacked!!!! By a squirrel!!!
Yep, Squirrels here. I took some time off of crocheting some Cozies so that I could help my bud out.
It is June 13th somewhere...maybe here or there...according to where you are on the International Date Line, but definitely somewhere and it is Jenn's Birthday!!! Everybody leave her a Happy Birthday comment below!
Insert shameless plug here for my cozies...have you seen my cozies? <cue the lights and music> You can grab one at my Etsy store! They go great with either hot or cold beverages!
Or....you can enter to win one right here. I'm giving away a celebratory apple cozy!!
So, anyway, I told our pal Jenn to take a break and relax, to put her feet up, to eat loads of chocolate, to take a nap, to enjoy an adult frothy beverage and VEG OUT! And all of this can be done "guilt free" because IT'S HER BIRTHDAY!!! YEAH! All of those things (and many more) can happen WITH NO GUILT- I mean, none- at all. Naps don't count against you. There aren't any calories or fat in ANY of the food you eat. Chores get done while you are kicked back in the recliner. I swear.
****Disclaimer- The owner of this blog and author of this post claim no liability for any stunts pulled while indulging or any tummy aches acquired from too much eating.
**** Jenn told me, she said, "Squirrels- please, please, please make sure you tell EVERYONE how old I am!" I was all like, "What? Really?" She insisted!!! So, we can all wish Jenn a very happy ---- birthday! (Man, I WISH I was sitting next to her while she read that part..... ha ha! I'm a stinker)
So anyway, thinking about Jenn's "summer" birthday, made me think of all the sweeties in school this year who have June and July birthdays. Each time a mommy would come in with a dozen or two cupcakes to school, they would come up to me and remind me that "My birthday is when we are outta school, so I can't bring cupcakes". Insert sad face here. -----------> I mean, we all know the truth, right people? Teachers go into this gig for some pretty big reasons:
#1 Only working 8-3
# 2 No Weekends Ever
#3 Summers and Holidays off
#4 A potential for having cupcakes on at least 20 out of your 180 day schedule
(I totally cracked up writing 1-3... I hate it when people say those things!!!) But I am NOT joking about #4!!! When I got my roster on those first few days of school, the first thing I do is look at their birthdays. All of the June and July babies are immediately singled out....those are the children who will not be bringing us Chocolate Cupcakes with Whipped Icing from Publix. I won't lie. This a like a "demerit", sort of like "strike one"!! They have a lot of making up to do and they haven't even met me yet!!! Just kidding (maybe). I tell the sweeties that mommy can always bring them in before school is out and we can celebrate with them AND they will have their summer celebration, too! It's a win- win (for me).
Before I took over Jenn's blog for the day, I thought it would be super cool to post about how we all celebrate with our sweeties on their special day- maybe even link up. But after some looking around, I saw that one of our blogging buds have already done this and there are some FANTASTIC ideas on here!!!
Follow the links to check out the posts!
Stephanie from Falling into First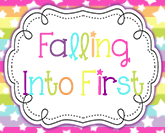 All joking aside, I realized that I was going to miss the birthdays of my summer babies too late in the game my first year of teaching. It was after I had dropped the ball that I started letting moms know about the option of bringing in treats early and I make sure that we acknowledge their special day coming up during those last couple of weeks. For now I am going to wish our Summer Sweetie, Jenn, a very Happy ----Birthday. Here's to hoping she had a very relaxing, indulgent day! And a thank you to her for letting me "take over" for the day!!
Jenn and I would love for you to tell us what you do for those "Summer Sweeties" in your class each year!